Public Hearing Notice: District to consider service area boundary changes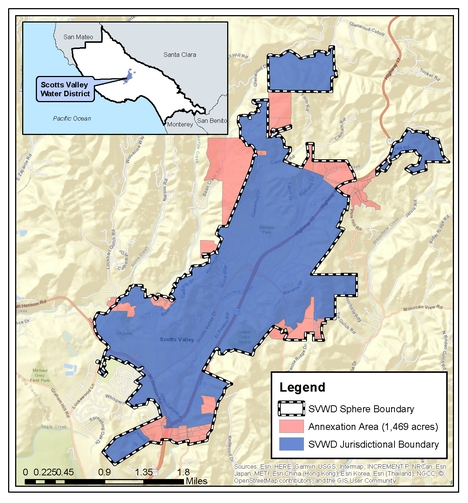 This spring, the Santa Cruz County Local Agency Formation Commission (LAFCO) will consider allowing Scotts Valley Water District to annex 177 parcels into the District's service area and/or sphere of influence. The sphere of influence is a planning tool that identifies the most logical provider of services by public agencies. Some of the parcels are currently in the District's sphere of influence but not its service area, and some parcels are served by the District but are not in its sphere of influence, which means they are technically outside of its service area boundaries.
All property owners and residents in Scotts Valley and the surrounding area rely on a shared source of water, the Santa Margarita Groundwater Basin. A successful annexation would expand the water supply delivery options and efficiently provide water services in the greater Scotts Valley area. 
Affected property owners and registered voters at the parcel addresses will be notified of the proposed annexation by mail and have 21 days to submit a protest to the annexation. The LAFCO hearing will be on April 5, 2023. 
The annexation process would be at no cost to the affected residents. The proposed annexation does not mean affected parcels automatically become District customers. All property owners would have the choice to become customers, if desired.
Frequently Asked Questions
Q: Which agency initiated the LAFCO process? 
A: Scotts Valley Water District inquired about annexing these parcels into the District last summer. 
Q: How much does this process cost?
A: LAFCO is waiving fees.
Q: Do we have enough water to support 177 new parcels?
A: The entire region of Scotts Valley and private well owners in the adjacent unincorporated areas rely on the same shared water supply from the Santa Margarita Groundwater Basin. 
Q: Do the parcels involved have to connect to Scotts Valley Water District's system?
A: No. In joining the District's service area, parcel owners have the option of requesting a service connection at any time. Fees apply to new service connections.
Q: Why are parcel owners being notified?   
A:  Parcel owners and registered voters at the parcel addresses have a voice in this process. If they object to annexation, a parcel owner can file a written petition with LAFCO. If less than 25% of parcel owners oppose, the LAFCO action holds; if 25%-50% oppose, then election is required; if more than 50% oppose, the LAFCO action is terminated.
Q: Where are the affected parcels located? 
A: The parcels are sprinkled around the edge of the District's service area on all sides: off Glen Canyon Road, between the Whispering Pines neighborhood and Mt Hermon Road, off Bean Creek Road, on the north end of Bethany Drive and along Highway 17 near Vine Hill Road.